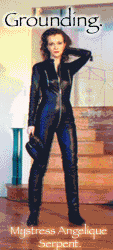 Breathe out the tension in your body, and focus on your breath to turn attention inward.
Think of the warm sun above your head, and feel it's warmth opening the flower of your crown.
The flower absorbs the sunlight and you begin to fill yourself with light.
Fill the reservoir in your center. Make it as bright as you can.
When it is filled, let the overflow run out your feet to penetrate deep into the Earth.
Feel the spark when it touches the fiery crystal at the center of the planet.
The energy returns to you multiplied, to increase the energy in your center till it surrounds your whole body.
Some of the up flowing light fountains out the top of your head to create a shield, colored violet-pink.
Send love to the sun.
Feel your chakras opening as it sends love back.
Lock in the circuit. Ask your unconscious to sustain the flow for you.